---
For over 20 years, we've helped people find the perfect vacation home in Paradise.
How can we help you today?
Remax Island Properties is your luxury real estate broker in the Dutch, French and English West Indies. We sell Real Estate and manage Villa Rentals on the Caribbean islands of Dutch St. Maarten, French St. Martin, Anguilla, St. Barths, Saba and Statia.
Very Easy To Buy
St. Maarten Real Estate - Buyers Market
St. Maarten real estate opportunities have never been better. There are very few restrictions when purchasing real estate. Anyone can own property on St. Maarten. Furthermore, there are no annual property taxes, no personal capital gains taxes and St. Maarten is a duty free port making the owning of real estate here all the more appealing.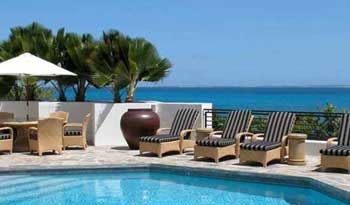 St. Maarten Real estate transactions are always closed using the European system where the Civil Law Notary (appointed by the queen) is responsible, by law, to both parties and is obligated to do a proper title search to insure a clear title transfer. The responsibility of clear title is with the Notary, thus title insurance is not needed. All Notaries are lawyers; a personal attorney is not necessary. St. Maarten real estate closings are in English within the time frame set by the purchase agreement . Closing costs are minimal and are the buyer's responsibility. Closing costs include a one-time government transfer tax, plus the Notary's fee with the total of both amounting to approximately 5-6% of the sale price.

There are three basic types of deed transfers for St. Maarten real estate transactions:
fee simple (Same as in the US)
Government long lease
Private long lease.
You may purchase property in your own name or in the name of a business. Personal or business accounts can be opened at local banks. All in all, the process of purchasing St. Maarten real estate is quite simple. Where there are further questions or issues, our experienced agents, at RE/MAX Island Properties are here to assist you!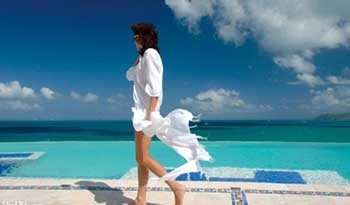 Outstanding Value
French St. Martin Real Estate - Stunning
The French St. Martin real estate market is somewhat different than Dutch side of the island. On French St. Martin, real estate transactions are always handled by the Notaire(Notary). The Notaire is responsible for preparing the final deed and obtaining all relevant searches about the property. The Notaire must check that each party has full capacity or the right either to sell or purchase property. Like on the Dutch side of St. Maarten, the Notaire is responsible, by law, to both parties and is obligated to do a proper title search to insure a clear title transfer. A personal attorney is not necessary.
The greatest difference from the Dutch side is that on the French side there are annual real estate taxes, annual living taxes and substantial capital gains taxes. The St. Martin real estate market has many attractive opportunities. Let Remax Island Properties help you find that perfect 2nd home.
Luxury Beachfront Villas and Condos
Beachview Villas and Condos at Coral Beach
Located in the prestigious Oyster Pond area on Dawn Beach, this picturesque region of the Caribbean island of St. Maarten/St. Martin opens a doorway to the beauty and serenity of the beach, mountains and rich tropical foliage. Fantastic views of the Atlantic Ocean and the neighboring Caribbean island of St. Barths are the mainstay of this island beach front area. Due to the unique location, you are surrounded by a lagoon to the north and the ocean with a beautiful white sand beach to the south.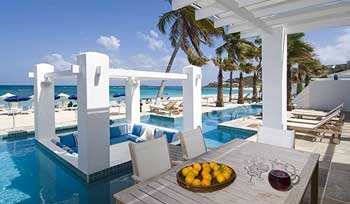 The natural wonders of this region are so astonishing that, for a moment, you forget the world you have left behind once you have crossed the threshold into this island playground. Call us toll free 866-978-7278 for more details on these units or others. Or, email us at: info@coralbeach-club.com
What else can we do to help you find the Perfect Caribbean Property?
If your dream is to relax in your very own island condo, estate or villa, Remax Island Properties is the prime resource for all your island rental and sales needs. We offer a comprehensive island property searches spanning every budget and lifestyle. Our goal is to provide the highest quality of service while pursuing the perfect island property for sale or rent.
We can help.
Whether you have questions about how to invest, need information on renting a villa, want to know specific tax questions, questions on managing your property or you just want to buy something, then we're here for you. We can help, email us at:info@remaxislandproperties.com.